The Pet Food Institute tells consumers that "pet food regulations are complex" and provides consumers a very misleading comparison of "the requirements for pet food with human food rules". Wrong, wrong, wrong. Here's the truth.
In a clear attempt to mislead consumers, the Pet Food Institute (PFI – lobby organization that represents Big Pet Food) appears to tell readers that pet food is governed by more complex regulations than human food. It's so wrong. For anyone to even come close to stating that pet food is held to more stringent regulations than human food is…well…ridiculous (absurd, idiotic).
Some of the PFI's comparison…
Pet Food: Registration required in most states.
Human Food: No registration required.
Wrong!
The truth: Human food manufacturing is required to follow federal, state, and sometimes even local legal requirements – including registration with each of these government authorities.
PFI's comparison…
Pet Food: Nutrient content is guaranteed.
Human Food: Nutrition facts are general (e.g., "Serving size approximately…")
Wrong!
The truth: Human food labels are required by law to state actual nutrient content – such as actual fat content and actual protein content. Pet food labels are required by law to state either minimum or maximum – not actual. Pet food regulations are very specific to NOT allow actual nutrient information. 'Protein' and 'fat' on a pet food label are stated as 'crude' (which is an estimated measurement) and these nutrients are stated as a minimum. Such as – a pet food label can state 6% fat, but actually the food could contain 26% fat (or more).
There are many (many) more misleading comparisons given by the PFI of human food to pet food. Below you will find a truthful comparison of pet food to human food. (Image below can be enlarged by clicking the image – magnify by clicking on icon in upper right corner after it opens. Or Click Here to view pdf.)
[lightbox full="https://truthaboutpetfood.com/wp-content/uploads/2014/10/HumanFoodPetFoodComparison.jpg"]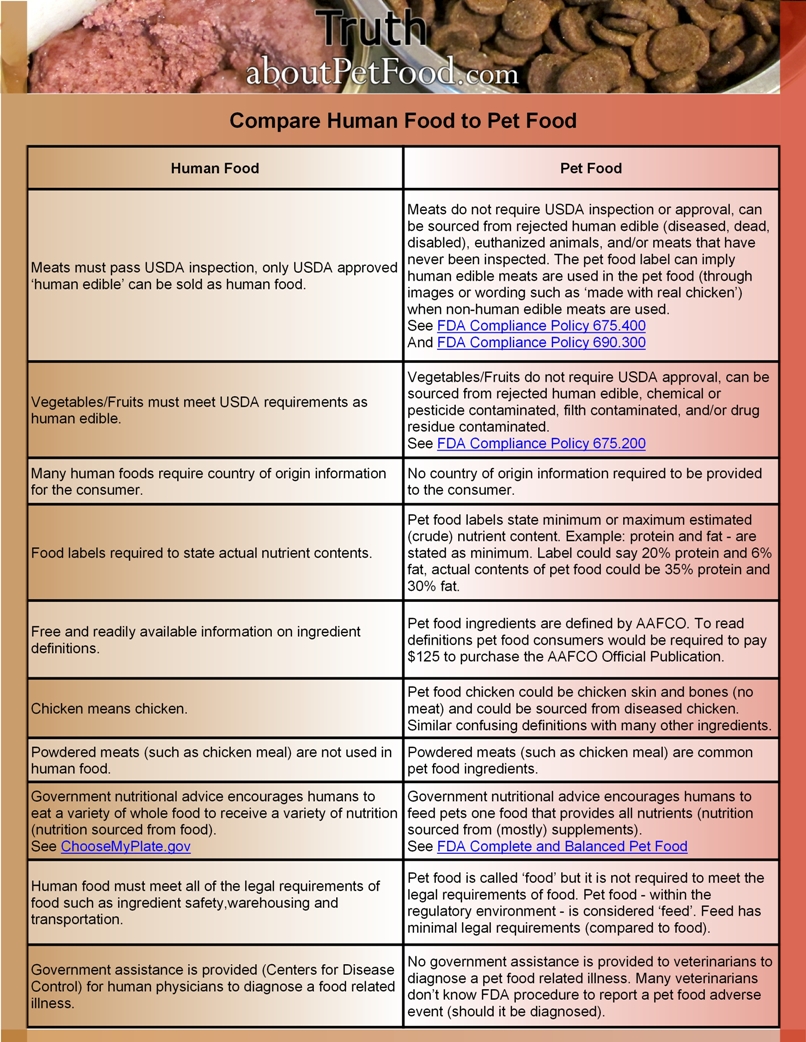 [/lightbox]
Always ask your pet food manufacturer if meat and vegetable ingredients meet USDA human edible standards. The differences between the two are significant and important for pet health.
Wishing you and your pet(s) the best,
Susan Thixton
Pet Food Safety Advocate
Author Buyer Beware, Co-Author Dinner PAWsible
TruthaboutPetFood.com
Association for Truth in Pet Food
What's in Your Pet's Food?
Is your dog or cat eating risk ingredients?  Chinese imports?  Petsumer Report tells the 'rest of the story' on over 2500 cat foods, dog foods,  and pet treats.  30 Day Satisfaction Guarantee. www.PetsumerReport.com
2014 List
Susan's List of trusted pet foods.  Click Here
Have you read Buyer Beware?  Click Here
Cooking for pets made easy, Dinner PAWsible

Find Healthy Pet Foods in Your Area Click Here