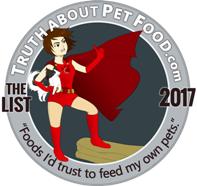 The 2017 List is available; TruthaboutPetFood.com's annual fund raising project.
What is The List?
The List is a 'list' of pet foods I personally would trust to feed my own pets. It's not a long list, and it's not a list of budget pet foods. It is a list of high quality pet foods that meet the criteria I have for my own pets.
Some of that criteria is…
It has to be food/human grade, not feed grade.
Ingredients have to be sourced from safe country of origin.
The pet food company has to test the product/ingredients on a consistent basis.
Priority is placed on meats sourced from humanely raised animals.
Why selecting a pet food isn't easy.
Selecting a pet food should be as simple as selecting your own food…but it isn't simple at all. The FDA and each State Department of Agriculture openly allows pet food to violate food safety law. Some of the most horrendous things you can imagine are allowed into pet food (but not human food) – with no disclosure to the consumer. As well, each regulatory authority allows pet food to directly violate labeling laws. As a result, many companies sell illegal ingredient pet food with extremely misleading (and illegal) labels to millions of unknowing consumers.
I've lost count of the times when a pet owner has told me 'I give my dog (or cat) the good stuff' when it turns out – in so many instances – the pet food label lied to them. Those pictures of roasted chicken or grilled steak on the pet food label were a big fat lie; needless to say the chicken wasn't roasted and the steak wasn't grilled…the images on the label were not even close to what was actually inside the pet food. And all too often, some of the ingredients in 'the good stuff' were illegal per federal laws.
Once a consumer learns that pet food can violate law, and the label can include misleading marketing – the next question is how do they find a quality pet food?
Well…the 'system' makes that difficult too. Pet food ingredients are not the same as human food ingredients. As example 'chicken' in pet food has a completely different meaning than 'chicken' in human food. Chicken in pet food can be any of the following: USDA inspected and approved chicken (just like what you purchase in the grocery), or USDA inspected and condemned chicken or chicken parts (rejected for use in human food), or simply chicken skin and bones (no meat). Chicken in human food is defined by laws that are public information. Chicken in pet food is defined by laws that are privately owned (by AAFCO). To read those laws (and the definition of chicken, beef, and every other pet food ingredient) a consumer is required to pay $100 a year to access the AAFCO Official Publication.
And then there is the misleading statements that pet food companies tell consumers…such as…when a consumer learns that chicken in pet food can be condemned chicken they ask the manufacturer: 'Are your meats USDA inspected and approved?' The pet food company slyly responds: 'All of our meats are sourced from USDA facilities'. In so many cases consumers don't catch the sly response; it's truthful but not exactly what was asked. The company often doesn't respond to the question if the actual meat in the pet food is inspected and approved, they redirect the question responding about the facility the meats are sourced from. But…condemned meats come from USDA facilities – they are rejected from USDA facilities and head straight to pet food. The information a consumer needs to know is if the ingredients themselves are USDA inspected and approved (not if the facility they came from is approved).
Needless to say, trying to find a quality pet food is not as simple as it should be. Over the past 10 years of TruthaboutPetFood.com, the #1 question I receive from consumers is 'What is the best cat food or dog food?'
The only way I can respond to 'What is the best cat food or dog food?' is with opinion. Opinion based on ten years of being a pet food consumer advocate and 26 years of studying the pet food industry (since a dog food killed my own dog 26 years ago). That opinion is The List.
Why charge for the List?
My full time job is a pet food consumer advocate; I am 100% supported by consumers. This website and AssociationforTruthinPetFood.com would not exist without that support from consumers. Products that TruthaboutPetFood.com provides (The List and Petsumer Report) is my only income.
This years List…
The 2017 List is smaller this year than last year. Multiple companies did not respond to my questions – multiple attempts were made to get responses, but… For me personally, to trust a pet food enough to feed it to my own pets, I do not rely on pet food marketing (website or packaging). I have a list of detailed questions that often lead to more questions depending on the responses received. Unless I receive answers to initial questions and follow up questions, the pet food is not considered for The List.
There are only 2 new pet foods this year. I found six or seven possible new foods early on in my search this year, but only two new pet foods made The List.
The 2017 List includes 11 cat foods and 19 dog foods. There are only 2 kibble pet food options – the rest of the pet foods are raw, canned, cooked, or dehydrated.
There is NOT any economy pet food on The List.
Most of the pet foods are sold in the US only, some are available in Canada, and some have multiple country distribution.
Same as in previous years, you cannot share The List. I depend on the income provided by The List and Petsumer Report to keep doing the work I do.  The 2017 List is copyright protected; without expressed written consent from me (Susan Thixton) no part of The 2016 List can be emailed, copied, quoted, published, printed (except for personal use), or altered.
And please realize this – if your budget is limited, you have the option of feeding a high quality pet food part time – such as three meals a week – and the remaining meals would be your less expensive option. At least your pet is getting some high quality real food. Some real food is better than no real food.
Click Here to order the 2017 List of pet foods I'd trust to feed my own pets.
My thanks to all in advance.
Wishing you and your pet(s) the best,
Susan Thixton
Pet Food Safety Advocate
Author Buyer Beware, Co-Author Dinner PAWsible
TruthaboutPetFood.com
Association for Truth in Pet Food
What's in Your Pet's Food?
Is your dog or cat eating risk ingredients?  Chinese imports? Petsumer Report tells the 'rest of the story' on over 4,000 cat foods, dog foods, and pet treats. 30 Day Satisfaction Guarantee. Click Here to preview Petsumer Report. www.PetsumerReport.com
The 2017 List
Susan's List of trusted pet foods.  Click Here
Have you read Buyer Beware?  Click Here
Cooking pet food made easy, Dinner PAWsible

Find Healthy Pet Foods in Your Area Click Here