Petsumer Report Review of the Month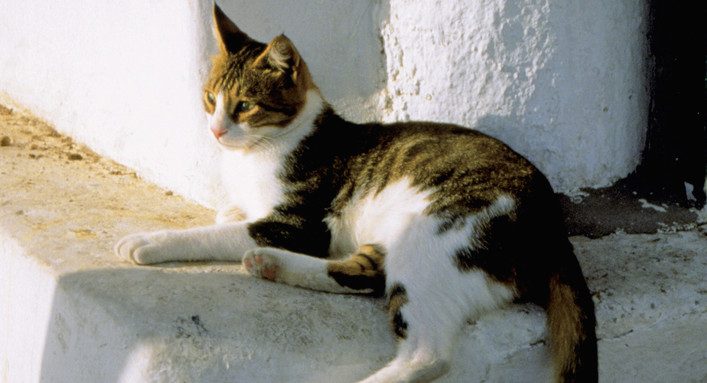 Petsumer Report is undergoing lots of change.  Over 700 pages in the new format have been added in the past few weeks.  We hope to have all reviews updated by early summer (more than 2000 pages to go!).
The new format can't be properly displayed here (different WordPress template), but…
AvoDerm Cat Food
AvoDerm Pet Food is one of the Breeder's Choice lines.  Breeder's Choice has their own (kibble) manufacturing facility in Irwindale, CA.  Fish meal ingredients are preserved naturally.  AvoDerm stated foods are GMO free however they cannot certify this (example – they cannot certify poultry used in pet foods were not fed a GMO diet).  For more information visit www.avodermnatural.com
AvoDerm Tuna and Crab Entree in Gravy All Life Stages Cat Food Can
Pledge to Quality and Origin

No Pledge provided
Rating Note: Moisture ingredient is not scored in can pet foods. However, the additional moisture in can foods are of great benefit to cats and to a lesser extent dogs.
Tuna, Tuna Broth, Crab, Sunflower Oil, Tapioca Starch, Tricalcium Phosphate, Guar Gum, Avocado Oil, Taurine, Potassium Chloride, Vitamins (Vitamin E Supplement, Thiamine Mononitrate, Niacin, Calcium Pantothenate, Riboflavin Supplement, Vitamin A Supplement, Pyridoxine Hydrochloride (Vitamin B6), Folic Acid, Menadione Sodium Bisulfite Complex (Source of Vitamin K Activity), Biotin, Vitamin D3 Supplement, Vitamin B12), Minerals (Zinc Oxide, Ferrous Sulfate, Manganese Sulfate, Copper Sulfate, Calcium Iodide, Sodium Selenite), Carrageenan.
Crude Protein: 10% minimum Crude Fat: 2% minimum
Crude Fiber: 1% Moisture: 82%
Calories: 70 kcal/3 oz. can
Ingredient Quality
The AvoDerm Representative stated ingredients are human quality/grade.
Country of Origin
U.S. – some vitamins/minerals sourced from China.
Risk Ingredients
Contains carrageenan.
Manufactured by
Dry foods are manufactured at company owned facility in Irwindale, CA; no information provided for canned food manufacturer.
Shelf Life
Manufacturer states shelf life is 2 years; this would mean the 'Best by' date on the packaging is 2 years past the date the food was made (method for the consumer to determine how fresh or old the food is).
Plus:
3 oz and 5.5 oz cans are BPA free.
Minus:
Contains Carrageenan, controversial ingredient linked to intestinal disease.
Learn More
Carrageenan is a seaweed extract used as a thickener in pet foods (some human foods too such as ice cream). This ingredient comes with controversy and risk; carrageenan is included in this pet food. Click Here and/or Here to learn more about Carrageenan.
Menadione Sodium Bisulfate is a synthetic Vitamin K lined to health risks, however it is not noted as a 'risk' or 'minus' in cat foods that are fish based. Pet food regulations require fish based cat foods to use menadione, and only menadione as the source of Vitamin K supplement (per regulations a natural source of Vitamin K is not acceptable in fish based cat foods). Click Here to read more about this supplement.
The sodium selenite ingredient in this cat food is not noted under minus as it would be in a dog food. The reason: the safer form of delivering selenium to the pet food, selenium yeast, is not yet approved for use in cat foods by the FDA. This manufacturer is using sodium selenite because it is the only option for this supplement. Click Here to learn more about selenium.
BPA or Bisphenol A is a chemical commonly added to the plastic lining inside canned foods (human foods and pet foods). BPA comes with risks. Click Here and/or Here to learn more about BPA.
Probiotics are not added to raw, dehydrated raw, or canned pet foods. The processing systems would destroy the bacteria.
To explain the rating – only the first five ingredients – the majority of the food – are rated and listed in bold type. Grey Font ingredients imply ingredients providing pets little to no nutrition, and Red Font ingredients are Red Flag ingredients that are potentially dangerous to pets. Quality ingredients are listed in bold black font. Five quality ingredients gives the pet food a five Paw Print rating. Four quality ingredients gives the pet food a four Paw Print rating, and so forth. Four Paw Prints is the highest rating possible for a canned pet food. Do not rely on the paw print rating alone; read the Plus/Minus information and manufacturer information at the top of each page.
Petsumer Report is a division of TruthaboutPetFood.com and and proceeds help to support the advocacy work we do.  Petsumer Report is not downloaded to your computer. All subscribers access Petsumer Report™ through a User Name and Password system. If you have not subscribed to Petsumer Report™ and would like to – click here
Wishing you and your pet(s) the best,
Susan Thixton
TruthaboutPetFood.com
Association for Truth in Pet Food
Pet Food Safety Advocate
Author Buyer Beware, Co-Author Dinner PAWsible
What's in Your Pet's Food?
Is your dog or cat eating risk ingredients?  Chinese imports?  Petsumer Report tells the 'rest of the story' on over 2500 cat foods, dog foods,  and pet treats.  30 Day Satisfaction Guarantee. www.PetsumerReport.com
2013 List
Susan's List of trusted pet foods.  Click Here
Have you read Buyer Beware?  Click Here
Cooking for pets made easy, Dinner PAWsible